This month, Paper Crafting World is having an Anything Goes challenge with Red as a twist. So all you need to do to enter is to make up one of the many gorgeous files available at PCW and use red as one of the featured colours!
My DT entry for this month is a red poinsettia. The file is available
here
and is very easy to cut with any machine that uses svg files.
While it is still a little early for Christmas themed items, our singing group needed something a little different for our Christmas entertainments over the next two months so I made this poinsettia into a brooch for each member of the group.
I cut the file at 4" wide and it is just under 4" in height. I used a variety of cardstock to get the colours I wanted. When I had cut the layers, I embossed the red layers using the swiss dots folder in my Cuttlebug to give some added texture. I then shaped the petals using a pair of scissors to curve them gently so they give a more 3D look.
I added Kindiglitz to the yellow inner piece to provide some added sparkle and glued the pieces together in the centre and added them to the leaf layer.
To finish the brooch off, I added a brooch clip to the back using hot glue. I think it works well as a decorative brooch for us all to wear!
Do join us for our challenge this month. It would be lovely to see what you come up with for your entry!
As always our challenge is
ANYTHING GOES
with an optional twist. This month's twist is; Use the color RED. Remember, the twist is optional. To add your project,
CLICK HERE
Thanks for stopping by our design team blog. Until the next time,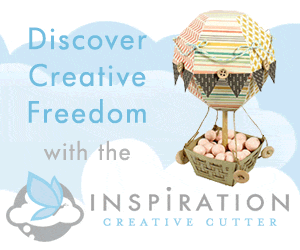 Don't Forget To Sign Up For My Newsletter To Receive
The Subscriber Only FREEBIES and other exclusive info!