Hello

ladies

, how

are you?
Laura of Mis diaz y mis suenos here with you today. In the world of scrap most of us are compulsive buyers and love to have every novelty.
We are simultaneously stash builders. We love to hoard all that pretty paper!
It is not uncommon that in every project, there are remaining cuts we do not want to throw away, and keep them for long periods of time to hopefully find some project where it will fit.
Two weeks ago I presented a LO worked with the kit "Layout pennant side."
I had several left over cuts.
Today I am sharing another layout using some of those very same cuts.
This time I changed the colors and chose to use an already embossed paper in pink. I also decided to utilize pieces from some of my other recent projects.
I used the banner from the file, which served as a frame for my photograph. I put the added a strip of colorful patterned paper to add a totally contrasting palette. It also matched the girls clothing.
I liked the effect of the contrasting paper, so I used it for my photo corners.
I used my leftover flowers, as they were cut off by my machine Cameo, flat.
For the other

s,

I added

half pearls

in the center.

Thus

almost

all the elements

used

were

pre-cut

from my stash.
These elements

were more than enough

to complete

this project. The only remaining thing to do, was a

dd the title

.

I used dies for the heart, camera and title word "family"

.

I highlighted

my

metal heart

on a red background

.

The camera

on top

of

my photo

right

corner, and

the word "

Family"

down in the

banner

as

Title

.
My clean
and simple style
layout was complete. I wanted to take full advantage of the elements and cuts I already had. It also encouraged me to use
my
beautiful
embossed
paper, to
no longer
have it saved
in my stash, but to showcase my memory.
I
was delighted
with it!
Now
I invite you
to participate
with us in
our month long challenge
for the February. Remember: ANYTHING GOES with the option to add a heart.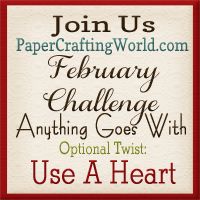 You can join the challenge and pick up a freebie
HERE
.
I hope you

enjoyed my work and are

encouraged

to use the beautiful papers in your stash. They deserve to be in your projects where your beloved memories will be preserves.

Remember that

each file

can

be used

in so many ways

for a

custom effect. Just one element can be used many times and in different ways. I encourage you to look at things differently. There is no wrong way to scrap. It is all about expressing yourself and your uniqueness. Don't forget to stop by my blog and check out more of my projects!
Until next time

and in the meantime

here are

a grant of

royal

kisses

!