Hi PCW fans!
Have you ever been down to the last minute for a project yet you still wanted it to be special? That's where I was with this project. The hubby had surgery and the days prior to and since have been pretty busy, but it's my design team day and I knew I needed a project.
Thank goodness for PCW's amazing digital stamps that include both the line art and a pre colored version!!! A little bit of layering, some twine with a gem, Glossy Accents, and Spectrum Noir Sparkle pens - that's all I added to this
This was truly a 10 minute make. If you have more time, you can always color the image yourself.
Be sure to play along with our February challenge:
ANYTHING GOES with the option to add a heart.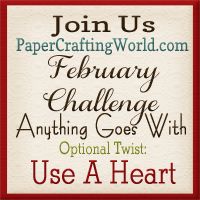 You can join the challenge and pick up a freebie
HERE
.
Hugs and Happy Crafting!!